Cumulus Green 2022: Nurturing Our Planet

invites all students from Cumulus member institutions to consider submissions for art and design projects that may contribute to fulfilling the vision of the United Nations' SDG 2: Zero Hunger and how we may transform our food systems to end food insecurity—creating better conditions for an equitable and environmentally prosperous world.
The competition recognizes that we have a global resource challenge that necessitates the creative contributions of the art and design community to prevent people from suffering from hunger and to meet the targets of the United Nations Sustainable Development Goals by 2030. The competition is administered by the Cumulus Secretariat with oversight by the Cumulus President and Executive Board.
Cumulus Green 2022 counts with a prestigious global jury from academia and practice with experts in sustainable and critical food design, food philosophy, regenerative agriculture and global food systems. The competition is produced in a strategic partnership between Cumulus and The One Club for Creativity and leverages their award-winning submission and judging platform. 
Cumulus Green 2022 Winners Unveiled!

Cumulus GREEN 2022: A Unique Invitation to Take Action
Dear Cumulus Community,
In times of crisis and accelerated changes Cumulus Green represents an invitation to rethink the meaning and purpose of Design by tackling challenges "for the real world" based on the UN Sustainable Development Goals.
Cumulus Green 2022 is focusing on SDG2: Zero Hunger. The competition invites you to take on the many interrelated opportunities that come with the challenge of imagining what it might take to ensure 9 billion people across the world do not go hungry. More than a competition for design students, Cumulus Green is a global window into the future of Design.
José Allard and Anne Pikkov
Competition Co-Chairs, Cumulus Executive Board
Why SDG #2 and Zero Hunger?
An Urgent Issue
Cumulus Green 2022 wants to encourage innovative solutions that relate to one or more of the following 3 categories: Products, Systems and Services. Student proposals can address various challenges in different food domains; solutions can vary in scale.
Experts agree that after decades of steady decline, the number of people who suffer from hunger – as measured by the prevalence of undernourishment – began to slowly increase again in 2015.
Today, the world is not on track to achieve Zero Hunger by 2030. If recent trends continue, the United Nations estimates that the number of people affected by hunger would surpass 840 million by 2030. The situation is of great urgency: according to the World Food Programme, 135 million suffer from acute hunger largely due to man-made conflicts, climate change and economic downturns. The COVID-19 global pandemic has only accelerated the problem for the world's poorest people.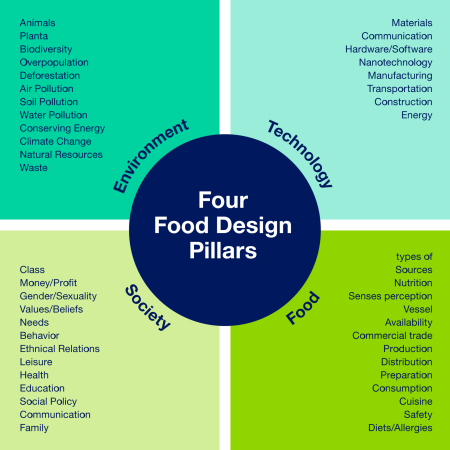 Creative solutions to address the multi-dimensional challenges posed by SDG 2 are urgent. Learn more about the many knowledge resources available to get started here.
The 17 SDGs are broad based and interdependent goals to be achieved by 2030. The SDGs redefine how the global community can work together to tackle poverty and improve living standards, while protecting the environment.
Cumulus GREEN & The Kyoto Design Declaration
Cumulus Green 2022 builds on the enduring legacy of the Kyoto Design Declaration, a shared statement of commitment to building sustainable, human-centered and creative societies ratified by all Cumulus members in 2008.
Cumulus Green was conceived as a student design competition first launched in 2009 that promotes the vision of the Kyoto Design Declaration.
In 2020, Cumulus relaunched Cumulus Green (Cumulus Green 2020: For a New Circular Economy) as a biennial student competition that always aligns with one of the SDGs. Cumulus Green 2022 continues to embody the spirit of global citizenship of Cumulus members, highlighting the talent, creativity and diversity of all Cumulus students.