Divino Foods | Healthy and Sustainable
Functional foods with fiber and antioxidants, made from organic wastes of the wine industry
Solution
The organic waste that's generated by the wine industry implies serious economic and ecological problems and challenges. The main byproduct is grape pomace: grape peel, seeds and stems. Today, grape pomace is used as fertilizer or simply wasted. However, thanks to its properties, grape pomace could be used as a functional ingredient in the preparation of healthy fettuccini because of its content of dietary fiber and antioxidants, which generate important health benefits when consumed regularly.
Project Description
Grape pomace is an abundant residue of the local wine industry, which can be taken advantage of by its properties and used as a functional ingredient to make healthy and gluten free foods.
This way the general purpose is to value grape marc by creating healthy foods, taking advantage of its natural compounds and offering an alternative that may be attractive to tourists in Chile. Also, to develop an offer that can generate greater benefits to health and that can also be consumed by celiacs.
Its important to consider that fiber and antioxidants can help reduce the risk of suffering chronic diseases such as cardiovascular diseases and diabetes, and even some types of cancer such as colon.
Divino Foods develops healthy fettuccine made with grape marc flour and wheat flour, with a good source of fiber and natural antioxidants. Also, a gluten-free fettuccine is developed, using grape marc flour, chickpea flour and rice flour.
Overview of the Solution
An opportunity is first detected in relation to the large amounts of waste generated in the vineyards. In Chile about 190 thousand tons of grape marc are generated annually. In general, grape pomace is considered a waste, and its valuable components such as dietary fiber and natural antioxidants, are not being valued. In addition, it should be noted that fiber and antioxidants are powerful functional ingredients that generate important health benefits when consumed regularly. It is also important to consider food trends and restrictions. For example, celiacs turn out to be a group that suffers complications when it comes to food, because due to their gluten intolerance they cannot consume oats, rye and barley, which limits their diet and affects their quality of life. Experts even claim that gluten-free foods are usually nutritionally deficient.
Finally, in Chile it is important to consider wine tourism as an interesting context where new products or services can be implemented in order to diversify the offer and attract more tourists, both domestic and foreign, and thus add value to national wine tourism experience. The project is intended for tourists who visit vineyards in Chile, where the product can be offered as something completely new for them, making their experience more memorable and special. Divino also targets celiacs who care about eating foods that are nutritious and healthy. The design process was separated on the one hand in designing a new food and then packaging and brand identity. Regarding food, meetings were held with experts in the area of ​​gastronomy: La Clementina, Chilean restaurant; Concha y Toro, vineyard; Experts in the area of ​​sensory food analysis at Culinary, School of Gastronomy. For the validation with users a survey was developed to evaluate 5 key aspects: taste, texture, shape, color and general acceptance. In general, very positive comments were obtained regarding the taste of the three types of fettuccini. For the packaging design, different packages of pasta, gluten-free products and gourmet products in general were analyzed. Cardboard is one of the materials with the highest percentages of recycling in Chile, and allows the contents to be protected from bumps or falls. The logo was designed to resemble the stems of the leaves of wine grapes, and also to reflect the concept of the word "Divino" and the origin of its ingredients and process. Divino sounds like "de vino" in spanish, which means "from wine".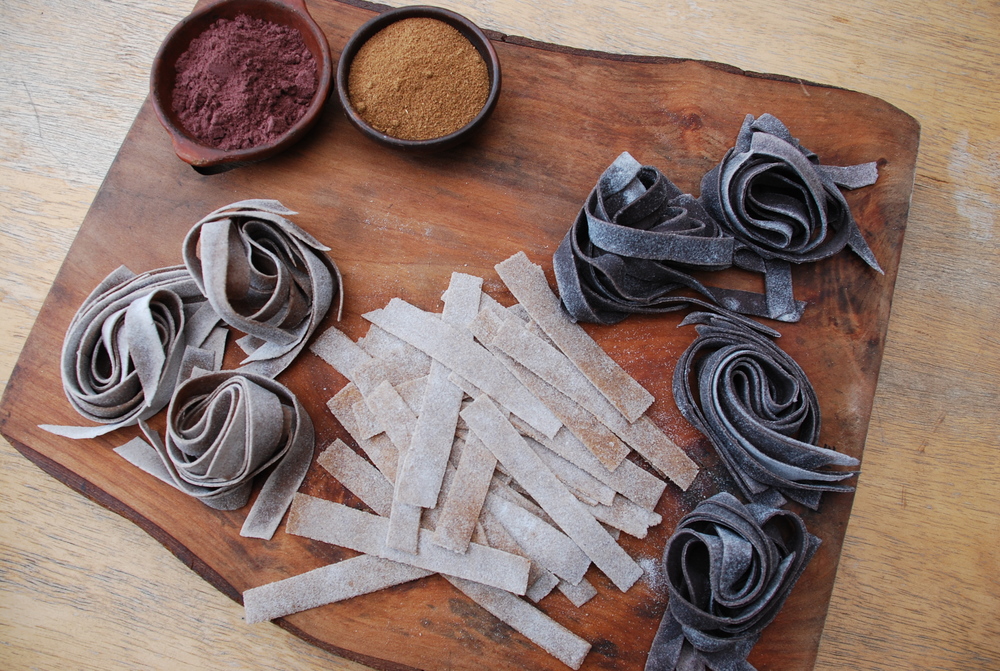 PROJECT TEAM
Josefina Pollarolo Echeverría
INSTITUTION
Pontificia Universidad Católica de Chile, Facultad de Arquitectura, Diseño y Estudios Urbanos, Escuela de Diseño, Chile
Category
Product
FACULTY/COURSE ADVISOR
José Manuel Allard Serrano
STAKEHOLDERS
Concha y Toro, Pirque, Chile. The largest vineyard in the country.
Research Center for Molecular Nutrition and Chronic Diseases, School of Medicine, Pontificia Universidad Católica de Chile.
Ángel Valenzuela, Grape marc products and flours SPA, Chile. First grape pomace flour producer in the country.
Isidora Kraemer, La Clementina, Chile. Chef an Co Founder of La Clementina, restaurant with more than 12 years of experience in gastronomy.
Beatriz Vásquez, Expert in Sensory Food Analysis, Culinary Institute, Chile.
PROJECT SOCIAL MEDIA